The time is NOW!
My goal is to speak to GOP and patriot group in ALL 50 states, because together we can save America's A$$.
This popular presentation has been effective in shaking up the self-serving opportunists that infiltrate campaigns and ruin the success of the conservative party.
Tana reveals the truth of what happened with the Political Persecution of the President, within the campaign and the party.
We Need New Leaders.
She encourages new people to run for office and stresses why they shouldn't rely on the usual, boring, tired campaign strategies if they plan to win.
She gives a starter toolkit that includes firm, direct, action items needed and necessary to win again, for instance.
Do YOU want to WIN?
Tana shares how she rewrote the business blueprint for winning an election as a political neophyte.  As a result, shares how she won in 2016 & 2020 by the largest margins in one of the most critical battleground states, Iowa.
Tana teaches the necessary mindset to be a team player and how the conservative party should not be so good at giving up and losing, for instance.
She points out how to recognize the negative, self serving, opportunist people on campaigns and how to immediately get rid of them.
These Leaders Took Action and Invested in Tana!
County Chairs that have recently hired Tana have said:
"Tana was the best speaker we've ever brought in, her inside peek into the campaign was very exciting yet scary to hear".
"The feedback we've received after Tana was here was incredible and the participants want her back for our state convention".
"Tana was direct, down to earth and real. We got way more than we paid for".
"Tana shared many tips and suggestions as to where we go as a Republican party from here".
"Tana's speech is NOT for the weak at heart, she holds nothing back".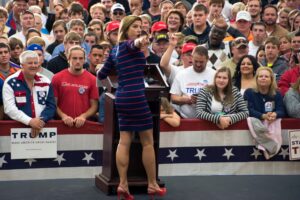 Please call The Hey Tana Team today for the speaking fee to bring Tana to your city or state today. 515-991-3440